"Accountability can be freeing": How EQ Investors increased its B Impact Assessment score by 54 points
Wealth management advisor EQ Investors is Best For The World in the Customer category, largely for developing high-impact investment solutions for its clients. But that's just one area that's seen its B Impact Assessment score jump by a hefty 54 points. So, what's led to this impressive change in practice?
The mission of EQ Investors is twofold: improve its client's wellbeing through good financial planning and connect capital to businesses that are having a positive impact on the world. Founded in 2015 by entrepreneur and philanthropist John Spiers, the wealth management advisor has been a B Corp since its launch. The London-based team now has 70 people who work with over 3,000 clients, including both private investors and corporate foundations and charities. 
A 54-point increase in its B Impact Assessment score at its last recertification might suggest a major revamp in EQ Investor's strategy. But according to Sophie Kennedy, joint CEO of the company, it's more the result of a long term vision. "We haven't really changed our strategy since our last certification [in 2018] – a lot of what we were working on and the policies we put in place have just taken a while to come to fruition."
A
5
4
-
p
o
i
n
t
i
n
c
r
e
a
s
e
i
n
i
t
s
B
I
m
p
a
c
t
A
s
s
e
s
s
m
e
n
t
s
c
o
r
e
a
t
i
t
s
l
a
s
t
r
e
c
e
r
t
i
f
i
c
a
t
i
o
n
m
i
g
h
t
s
u
g
g
e
s
t
a
m
a
j
o
r
r
e
v
a
m
p
i
n
E
Q
I
n
v
e
s
t
o
r
'
s
s
t
r
a
t
e
g
y
.
Improving its customer offering
In a sector where managing client expectations is notoriously challenging – particularly when it comes to balancing profit and purpose – EQ Investors has set itself apart with its client proposition. That has come, first and foremost, through increasing the choice clients have when it comes to investing their cash. "In sustainable investing, the pace of innovation has been amazing, but a lot of traditional wealth managers might just have a portfolio or a strategy," says Sophie. "But not everyone has the same sustainability preferences. We have an impact offering for clients who want to invest in products or services that have a positive impact; a future leaders proposition, which is more of a low-cost way of sustainable investing focused on environmental, social and governance (ESG); and a climate action portfolio, which aligns with clients' values on the climate crisis." 
Focusing on education
With that development in place, upping its game when it comes to client education and support has been key. "For many of our clients it's their life savings. We're constantly educating clients on what investing sustainably means, what's the right way for them to invest, and what their needs are," she says. "Most businesses do that from a risk perspective – we also look very closely on the social and environmental front." In practice, that means its reporting and transparency has improved a lot. Clients can log into their own customer portal to see everything in their portfolio. And rather than simply tracking financial performance, clients can see impact metrics too – whether that's how many medical devices have been created, or how much renewable energy has been generated.  
EQ Investors has diversified the way it communicates with customers too. As well as newsletters, webinars, Zoom calls and physical meetings, there's been an increased use of short-form videos to act as explainers. "We'll record videos about recent market moves, or something interesting in terms of new companies that we're investing in," says Sophie.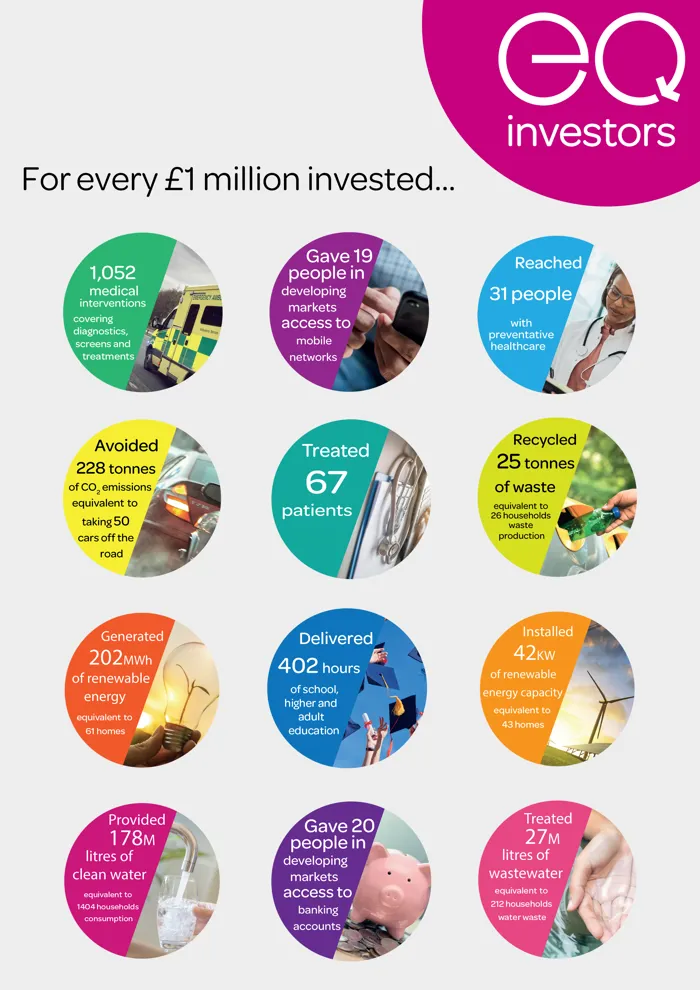 Holistic improvement 
But it's not just the customer side of things that the business has made big strides on. Sophie points to three areas in particular. The first has been putting its guiding ethos into writing, and actually changing the business' Articles of Association – a legal change that all B Corps make as part of their certification. It's a document that essentially drives every business decision. "It ensures the board or senior management are legally bound to think of all our stakeholders when we're making a decision. It's no longer focused purely on profit: it's about people and the planet," she says. "That allows us to focus on longer-term results, not just quarter-to-quarter, which in turn allows us to invest in sustainable investing." It was, what she calls, a "hugely daunting" legal process – but it's one that has really challenged the way the business thinks about things. 
Diversity of thought
The second change has been through Human Resources, and ensuring the business has a truly inclusive hiring process. EQ Investors uses blind CVs, has unconscious bias training for its staff and has also changed the language used in its job descriptions. Most importantly, it works with the Spear programme – an organisation which helps individuals overcome barriers to employment and find work. Through that initiative the business has hired 12% of its workforce, with employees sitting across research, investment, marketing, and admin teams. "It's been a fantastic programme that brings so much diversity of thought," adds Sophie. 
Finally, there's the Design to Give initiative. Through this, 20% of the equity of the business is owned by the EQ Foundation, a separate entity to EQ Investors that works very closely with the business. "What that means in practice is that we pay dividends to the foundation, and they have perpetual assets under management which they can then grant," she says. Since 2015, the EQ Foundation has donated over £10 million to charities and social enterprises, focusing primarily on education and employment for people from disadvantaged backgrounds. As EQ Investors looks to take on more clients, the impact the foundation will be able to make in this area through its grant-making is only likely to increase. Ultimately, if its clients' portfolios are growing, it'll be the planet that benefits.   
"
W
e
'
r
e
c
o
n
s
t
a
n
t
l
y
e
d
u
c
a
t
i
n
g
c
l
i
e
n
t
s
o
n
w
h
a
t
i
n
v
e
s
t
i
n
g
s
u
s
t
a
i
n
a
b
l
y
m
e
a
n
s
,
w
h
a
t
'
s
t
h
e
r
i
g
h
t
w
a
y
f
o
r
t
h
e
m
t
o
i
n
v
e
s
t
,
a
n
d
w
h
a
t
t
h
e
i
r
n
e
e
d
s
a
r
e
.
"
Sophie's B Corp lessons
Accountability can be freeing
Changing the business' official documentation has been a game-changer. "Accountability has longevity. If you have someone in senior management driving positive changes and then they leave, there's nothing to say the business can't then reverse its mindset. Changing your constitutional documents means it's now ingrained in everything you do," Sophie says. That's given the business a freedom to invest, to innovate, and to retain staff who might have gone elsewhere. "Any business struggling with their culture or values, this is a great way of instilling something very powerful." 
Learn from your customers
Sophie is quick to admit that not all the business' clients have been easily won over by its new investing propositions, but finding a way to communicate with them on their terms has been hugely beneficial. "We must think about everything from their perspective – that's every communication they might receive, what kind of emotions that's going to bring. We have a great feedback loop about what clients like from our quarterly newsletter. We've learned what's important to them." 
It's a great way to understand your business
Sophie admits that the B Corp Certification process was "pretty painstaking." But it's also a great opportunity. "It gives you a really good idea of where your strengths and weaknesses are as a business. You can then capitalise on those strengths and work on those weaknesses. We're already looking at our next application and the areas we want to improve." 
To find out more about EQ Investors and learn how you can increase your impact, check out a blog we published in 2022 "Making the mark: 5 ways to improve your impact using the B Impact Assessment"