How B Corp Certification helped Zen Internet stand out in the telecoms industry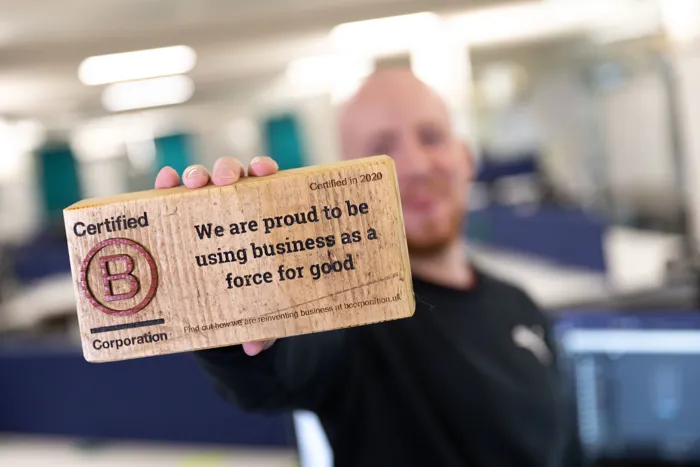 Greater Manchester-based, Zen Internet's journey to achieve their purpose started in 2008. In addition to being Carbon Neutral Plus, and becoming part of the B Corp movement in 2020, Zen won the North West Business Masters award for sustainability in 2022.
Company: Zen Internet is a broadband provider
Location: Rochdale
Founded: 1995
Size: 556 employees
Sector: Technology
Goal: Happiness for all: happy staff, happy customers, happy suppliers (in that order)
The challenge
Building customer trust
Raising its standards
"We work in an industry that has a poor reputation for managing customer expectations," says Paula Wilson, compliance and sustainability manager at Zen Internet. "Consumers are often unhappy with their broadband provider, and don't necessarily trust organisations they give their data to. We strive to behave as ethically as possible, but in a world awash with greenwash, how do we prove to customers that we are as ethical as we say we are? So our challenge was to get external validation that we were doing all the good things that we said we were."
Zen Internet has a 'people and planet first' mantra. It believes that having a positive impact on its people (and the environment) creates happy customers and suppliers, which in turn leads to growth. It realised that not only did the B Corp principles align with its own long-term objectives, but also, explains Paula, "being a B Corp would hold us to account on all those things, and provide a framework to help us make improvements." However, when it started the process, it realised it fell far short of the 80 points it would need to gain certification.
"It was a surprise," admits Paula. "When we looked at the framework, we realised we weren't doing as well as we thought we were."
"
I
n
a
w
o
r
l
d
a
w
a
s
h
w
i
t
h
g
r
e
e
n
w
a
s
h
,
h
o
w
d
o
w
e
p
r
o
v
e
t
o
c
u
s
t
o
m
e
r
s
t
h
a
t
w
e
a
r
e
a
s
e
t
h
i
c
a
l
a
s
w
e
s
a
y
w
e
a
r
e
?
"
The solution
Formalise existing policies and processes
Set up a B Corp working group to assess progress
The B Corp framework helped Zen Internet think more deeply about how it runs its business, about how transparent it was with its employees, and about how to empower employees to live up to the business' values. This led to some hard work in order to formalise existing policies and develop new ones. 
It took six months to do a gap analysis on where the company was and where it needed to be. Paula and her colleagues involved different parts of the business in the process so that everyone understood what being a B Corp was all about and could start to play their part in driving towards certification. Paula sits on a B Corp Working Group composed of the CEO, the people and culture director, and representatives from different departments in the company along with suppliers and community bodies. The group has met quarterly since Zen Internet began its journey to become a B Corp in March 2019, and in each meeting it assesses progress against an agreed plan and discusses the appropriate internal and external communications strategy. Zen Internet became a B Corp in August 2020, and is approaching recertification in August this year.
"
I
t
m
a
k
e
s
u
s
a
l
l
t
h
i
n
k
m
u
c
h
h
a
r
d
e
r
a
b
o
u
t
t
h
e
d
e
c
i
s
i
o
n
s
w
e
m
a
k
e
,
w
h
e
t
h
e
r
s
m
a
l
l
o
r
s
t
r
a
t
e
g
i
c
.
"
The impact
Accelerating its sustainability trajectory 
Stronger communication
Commercial growth
The B Impact Assessment has helped Zen accelerate the journey it was already on, says Paula. "Certification gives licence to employees to provide feedback, people feel comfortable to question our practices and hold us to account for things that we say we care about."
Paula is keen to use the B Corp annual impact report to communicate to stakeholders about how the company is performing. For example, in its last report, it noted a 61 per cent improvement in its community activities, based on increased fundraising efforts by staff and greater use of their two annual volunteer days. However, its score on the environment fell by five per cent, because it didn't reduce energy usage by as much as it had the previous year.
It has topped the Which? Table of Broadband Suppliers since 2016, and in 2021, 2022 and 2023, has been the only Which? Recommended Provider for Broadband. Positive Trustpilot reviews regularly cite Zen's B Corp status as a reason for joining. Staff also say they are proud to be working for a B Corp. This is reflected in low staff turnover: attrition in the six-month period October 2022 to March 2023 was just 3.9 per cent, and 47 per cent of its workforce has been with the business for at least five years. Zen is working hard to embed B Corp thinking deeper in the organisation, including incorporating B Corp-related objectives in employees' six-month reviews. There is also a renewed communications drive, using tools such as team meetings and emails, an internal magazine, and the CEO's weekly vlog to get the B Corp message out there. 
Paula concludes: "We don't want to be just a group of six people who are responsible for our B Corp journey; we want everyone to feel empowered to help us meet our people and environmental goals."
To learn more about Zen Internet, head to the Zen Internet website and their entry on the B Corp Directory