"Our health depends on the health of our planet."
In conversation with Sneh Khemka, CEO of B Corp Simplyhealth
As part of our 1,000 UK B Corps celebrations, B Lab UK's Executive Director, Chris Turner, was joined by Professor Sneh Khemka, CEO of B Corp Simplyhealth, for a conversation about the world of B Corp and what it means for sustainable impact and continuous improvement.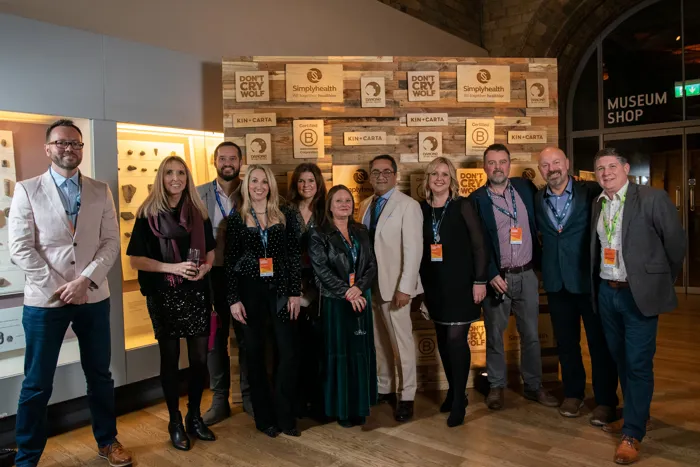 Let's take a moment to introduce B Corp and how Simplyhealth got involved
Chris: Since B Lab UK's founding in 2015, the UK B Corp movement has grown rapidly and we have now reached a community of over 1,000. B Corps are businesses who commit to balancing the interests of people, planet and profit and each one of these 1,000 companies bring the B Corp values to their organisation in different ways. 
It's a real pleasure to hear about the experiences of one of those businesses today — Simplyhealth joined the B Corp community in summer this year and is now an early mover in a movement that's ultimately going to transform our economic system to one that's more inclusive, equitable and regenerative. 
So Sneh, I would love to hear more about your journey to B Corp Certification and why you support the movement.
Why Simplyhealth's values align with B Corp 
Sneh: At 150 years old, Simplyhealth is one of the oldest health insurance companies in the UK. We operate with no shareholders which means that while we are for-profit, all of the profit we make is for a higher purpose: to improve access to healthcare for all people in the UK. It's this purpose-driven model that made B Corp Certification feel like a natural next step in our sustainability journey and we are very proud to be the UK's only B Corp Certified health insurer. 
But the process was certainly no easy feat. Even though we put a lot of the groundwork in before we applied for B Corp status, it still required a fundamental shift in how we operate as a business, and we had to change a lot of our policies and practices to make us better as an organisation. 
Chris: You'll be pleased to hear you're not alone, Sneh. It is hard work and that's the point. One of the key principles behind the movement is that we need to prove the concept. And to do that we need to show that that element of rigour is making the world a better, and happier, place. 
Sneh, can you tell us a little about the initiatives that have delivered a positive impact for your business?
"
A
l
l
o
f
t
h
e
p
r
o
f
i
t
w
e
m
a
k
e
i
s
f
o
r
a
h
i
g
h
e
r
p
u
r
p
o
s
e
:
t
o
i
m
p
r
o
v
e
a
c
c
e
s
s
t
o
h
e
a
l
t
h
c
a
r
e
f
o
r
a
l
l
p
e
o
p
l
e
i
n
t
h
e
U
K
.
"
How Simplyhealth became a B Corp
Sneh: Our health depends on the health of our planet. And becoming a B Corp is our genuine, and legal, commitment to uphold our purpose, values and beliefs, and care for our customers, colleagues, communities and local environment.
A few initiatives we are most proud of include: 
Achieving Forest Stewardship Council® (FSC) certification, demonstrating our use of environmentally responsible resources
Becoming carbon neutral+ by reducing our carbon emissions and offsetting the remainder through energy-efficiency and forestry projects in developing countries
Committing to donate up to £1 million a year to charities that are having a meaningful impact on people's health and communities
Providing an extra payment of £1,000 to our employees to help them manage the rising cost of living
We're doing all these things because it's the right thing to do, but it's a bonus to also feel the commercial benefits. When prospective employees and customers hear we're a B Corp, they think more favourably of us. And, more than that, it's enabled us to create a robust operational infrastructure that will ensure the sustainable growth of our business for generations to come. 
Chris: It's brilliant to hear how you've brought B Corp to life, Sneh. We know that despite meeting high standards, B Corps aren't perfect businesses – each one is committed to continuous improvement (recertifying every 3 years) and working collectively as a force for good. 
Just a few months into joining the community, what are your aspirations for improving impact at Simplyhealth, and for affecting and inspiring change across the industry? 


How Simplyhealth is striving to continuously improve 
Sneh: This is the beginning of a life-long journey for us. We scored 91.9 points in the B Impact Assessment and have started using this score as a benchmark for our sustainability performance. Every year, we will reassess how we're doing so we can improve our score at the next certification cycle. 
In terms of influencing broader systems change, the limited action from COP27 highlighted the value of grassroots movements like B Corp. We will use our heritage and experience to spread the word about B Corp, share best practice and mentor others on their journey. We look forward to the day when we're not the only B Corp Certified health insurer. 
Chris: Sneh, it's been great to hear more about your journey so far and ambitions for the future. One final question from me: in one word, what does it mean to be a B Corp?
Sneh: Impact. 
Chris: Thank you for supporting the movement and our 1000xBetter celebrations. 
Find out more about Simplyhealth and watch the live conversation here.