The Activist Business Project: A Year in Review
Move faster, dig deeper, aim higher…Charmian Love looks back on a year of promoting an activist agenda within the B Corp Movement and beyond.
By Charmian Love, Co-founder and Activist in Residence, B Lab UK. 
Hi! I'm Char and I've proudly held the role of B Lab UK's first Activist in Residence (AIR) for the past year. I've been involved in this amazing movement for over a decade, having co-founded one of the first UK B Corps, Volans, and then B Lab UK itself. As the discovery phase of the Activist Business Project comes to a close, I wanted to take a moment to reflect on this work, the learning I've picked up on the way, and how I believe activism has a role in business going forward.
First up, how did my activism journey start? 
My dad was an activist in Canada (he organised funerals for rivers in the sixties!), and I come from a family that cares deeply about environmental issues and the pursuit of justice. My true awakening came in 2019 when I found myself called to the streets during the climate protests. In supporting Business Declares in its early days, I had the chance to engage in the tricky but important work of building bridges between businesses and activist activity. 
What did my AIR work involve?
We need to engage with issues that are tricky, edgy, difficult - the edges are where new thinking emerges (check out why 'executives should always listen to unreasonable activists').
As B Lab UK's Executive Director Chris Turner says, "B Lab UK created the Activist in Residence role in recognition of the fact that activism increasingly influences many businesses, and many B Corps. We needed to build our understanding of this influence and the response of business, and also incorporate activism into our own work and thinking".
So over the last year, I've leaned into these edgy spaces to uncover what possibilities exist in the relationship between activism and business. 
I've supported the B Lab UK Team to align activism with strategy by facilitating meetings and conversations with activists and by developing and managing the pilot of B Lab UK's Youth Ambition Council. It's also been a pleasure to spend time with interested B Corps and businesses more broadly. I've been privileged to meet and build links to movement organisations and engage in projects to build awareness of the need to move faster, dig deeper, aim higher and work more effectively together. 
What are some key learnings?
Having spent a lot of time speaking to these movement and business leaders and businesses about activism, I've come away with an evolving understanding of what resonates with them and drives action, as well as what this action looks like. It is clear that these are areas where opportunities and tensions live together.
1. There's a lot of language out there around activism and business activism that we need to better understand. Here are a few initial reflections on some terms we've been hearing and using.
Activist
Someone who takes action. Who activates. Going to the edge of what is feasible, and then going beyond.
Activism* 
The policy of action of using vigorous campaigning to bring about political or social change.
Business Activist 
A business activist is a type of activist. They might be 'moderate' or 'radical' in their actions. These individuals understand and harness the power they hold in business to drive change. 
Business Activism
How a business engages in change which involves mobilising their people,
taking a stand, using their power to support movements, collaborating to drive policy change.
2. When it comes to taking action - here are some of the ways businesses can engage in activism: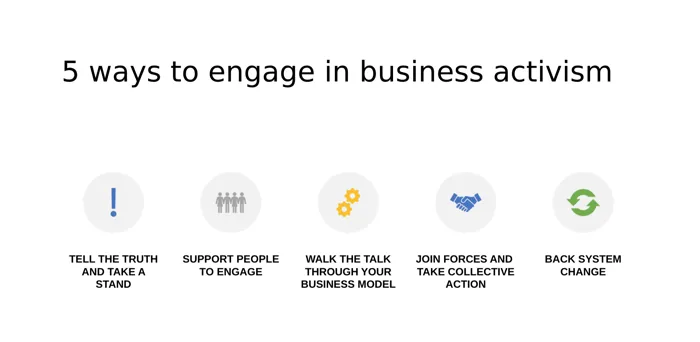 Tell the Truth - Take a Stand. The system is broken. We know this. Science affirms it. We can feel it and businesses around the world are declaring a climate emergency. Identify the issues that matter most to your business and formulate a clear position on these issues. And then have the courage to go public.
Support People to Engage. People hold power to drive change. Find ways to enable people connected to your business  (employees, customers, and supply chain partners) to take action.
Walk the Talk. Reaching Net Zero for scope 1, 2 and 3 (and even 4, 5 and 6) emissions will require fundamental changes to the business model. Dig deep and explore how you can model new ways of delivering value to both people and planet.
Join Forces. No one business can save the world on its own. Collective action is key. Think expansively about who in your industry you can join up with to drive this change - including your competitors.
Back System Change. The level of challenge were are facing requires a focus on changing the rules of the game. Lend your support to campaigns such as Kill the Bill and explore ways to pilot new approaches such as through Citizens Assemblies.
3. As more and more businesses seek to engage in activism, there are some important questions to ask to keep on the right side of the road:
Is this work rooted in what is needed, rather than what feels possible? 
Is the business serving as a tool for activism, rather than activism being appropriated for the benefit of the business? 
Is the action linked to 'changing the rules of the game', rather than purely being an incremental step forward? 
Is the philosophy of change underpinned by science and the B Lab Global Mission rather than based on unproven or unaligned values? 
Is the team diverse and encouraging multigenerational dialogue, rather than limited to 'usual suspects'? 
Is there a clear understanding that activism is a mindset and a means, rather than an end? 
4. B Lab has made a commitment to stand with activists and we are working to become even more clear on what this means in practice.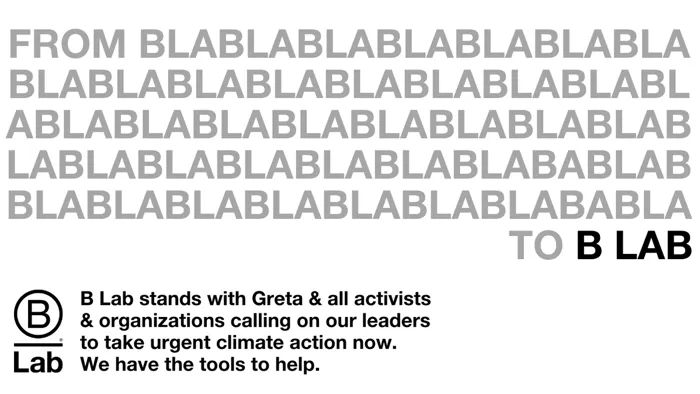 Looking to the next chapter…
It's been a wild year full of many activist experiments, shared lessons, new friendships, and deepened commitments to take action. I'm proud of the work we've developed together at B Lab UK in this first phase of the Activist Business Project and excited to see where it will go next.
B Lab UK will take this important work into its second year with the Youth Ambition Council, and will continue to explore ways to bring businesses and individuals together. If you work for a B Corp, keep an eye on the 'Business Activism' B Hive group if you want to connect with friends and fellow travellers in this space.
As for me, I'll be making the jump to activate on the inside at Natura&Co in the newly created role of Global Director of Advocacy. This is a big step for me personally - it's been a long time since I've worked in a big company! I believe deeply that the challenges we're facing in the world need action at scale - and where better to make some of this magic happen than at a pioneering B Corp!
This isn't a good-bye - far from it! My heart and soul will always be deeply linked to this global movement of people using business as a force for good. See you on the streets!
Further resources on Char's on business activism:
We'll soon be publishing a second article about Char's time at B Lab UK, where we'll talk in more detail through key learnings and tools from the discovery phase of the Activist Business Project.