What does 2030 look like for your business?
Step away from everyday decisions and engage with your future, today.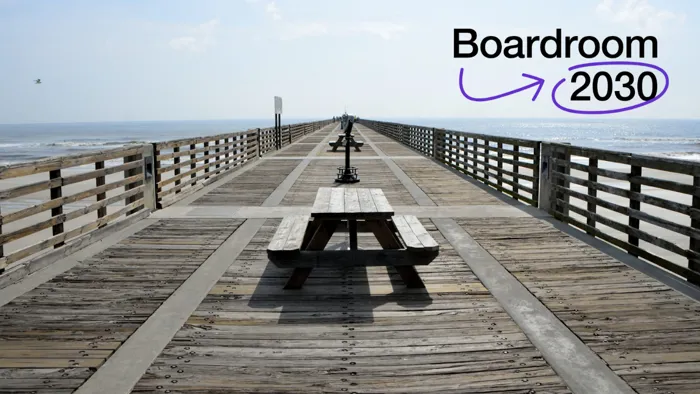 "The private sector can play a critical role in shaping the world we want to live in in 2030, which will be determined by the choices and actions taken today".
- UN High Level Climate Action Champions, Nigel Topping and Gonzalo Muñoz, Boardroom 2030 Activation Kit, 2021.
It's time to unlock a decade of action. Boardroom 2030 is a B Lab UK led campaign calling on all businesses to host a future-focused boardroom meeting, and to radically reimagine the people, priorities and processes needed to meet today's challenges.
Why host a Boardroom 2030 meeting?
Boardroom 2030 is a great opportunity to engage all stakeholders within your business to make future-proof decisions. Whatever it is you know you need to address urgently, whether it's reducing emissions to reach net zero, increasing representation across your business, adapting existing products or reflecting on whether new products are required, a Boardroom 2030 activation is a catalyst to accelerate action.
We all know that old systems can't be used to solve the new problems we face. So take this opportunity to face up to difficult conversations and ask crucial questions: What will your business look like in 2030? How will your products and services have changed? Do you have the expertise you will need to thrive in ten years time?
Follow in the footsteps of others
Since launching in September, more than 800 individuals have downloaded the Boardroom 2030 Activation Kit and the likes of JoJo Maman Bébé, Woolcool, Coutts, The Natural History Museum and Baukjen have hosted activations. Woolcool took some valuable lessons away from the experience.

"It was really creative, the team was engaged and came up with some amazing ideas…it definitely exceeded expectations and we've had great feedback from the team too. It was so successful that we are also planning on doing similar exercises for future team days".
— Josie Morris, Managing Director, Woolcool.
Want to see who else is getting involved? Check out the full list here. 
What could a meeting look like?
Boardroom 2030 activations can come in all shapes and sizes. Some businesses will want to extend or pivot the focus of an existing board meeting, with others might organise an "away day" or hold a separate 2030 focussed conversation.
Think about where you want to host your activation. Hosting a conversation outside or in your local community will help promote innovative thinking. You could meet at your local park or beach to remind participants that the planet itself is also a stakeholder which is impacted by your decisions.
And remember — you don't need to have a board to take part! A Boardroom 2030 conversation can take place in an organisation of any structure, whether within a formal board, Senior Leadership Teams (SLTs) or involving all employees.
Bring new people and ideas to the table
Think about who has a seat at the table. Boards and SLTs will need to strengthen the diversity of their boardroom and inclusive boards which are representative of the diversity of communities will benefit from the broad expertise of a variety of stakeholders. That's why businesses hosting Boardroom 2030 activations are encouraged to invite a youth panel, employees from across the business, people in your supply chain, customers or representatives from the local community. You could also invite climate scientists, activists or artists to inspire even more creativity.
Have a go at rewriting your usual board meeting agenda. Discussing topics such as gender balance, disability and neurodiversity will help to foster an inclusive culture and encourage open sharing of a range of experiences. Exploring new voting models to underpin decision making will help ensure you're capturing all perspectives.
I'm in! How do I get started?
The Activation Kit is an expert-led resource compiling everything you need to plan a Boardroom 2030 activation, including meeting templates, inspiration and advice from experts including the Institute of Directors and the UN's Race to Zero. Head to the Boardroom 2030 website to download the Activation Kit, and start imagining the boardrooms of the future.
Have you already got plans for a Boardroom 2030 activation? Once you know the date and location, don't forget to register your plans with us to stay up to date on the campaign and receive all the information you need.