Celebrating the businesses that are going beyond this B Corp Month
B Lab UK's Marketing & Communications Manager Hannah Reiss looks ahead at the activity this month
March is B Corp Month. It's the time of year when the B Corps from every corner of the globe come together with a single bold message. This year is about demonstrating that We Go Beyond.
As a movement of 1,200 UK businesses determined to make a positive mark on the world, this message will manifest in hundreds of creative ways. Some will take to social media to share their impact journey. Others will gather in person to dive into topics that matter most to their teams. And in true community spirit there'll be bucket-loads of collaboration, showcasing the collective impact and influence of the thriving B Corp movement. This will be my fifth B Corp Month since I joined B Lab, and I can't wait to see what the community has planned. 
To kick-start this year's campaign we're excited to share some of the things we've been working on. While London has been credited as the city home to the most B Corps in the world, this year we're going beyond B Lab UK's Whitechapel headquarters to drive deeper understanding about the action business needs to take.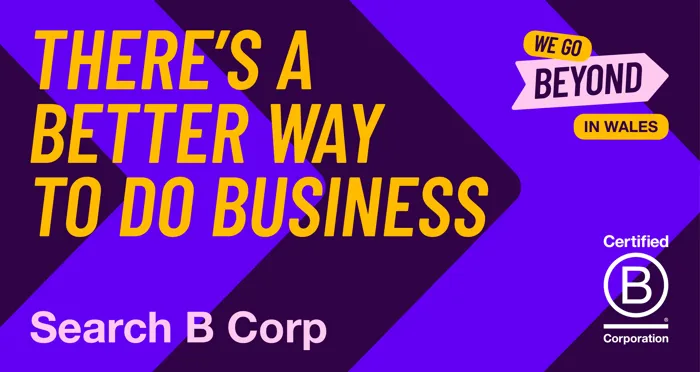 The B hits the high street
With more of the UK public wanting to shop consciously (but often finding it hard to know how), the B Corp logo is a helpful signal that a company is measuring and improving its impact – and that they've legally embedded this commitment for the long term. Throughout March, retailers are seizing this moment to proudly display the B Corps stocked on their shelves:
Look out for end-of-aisle displays in over 200 Waitrose stores across the UK
Pick up a B Corp snack from any of the 60 WHSmith travel stores with "force for good" signposts celebrating the community 
Spot the "We Go Beyond" messaging in Booths stores across the north of England
Take a photo in front of the colourful Whole Foods windows displays, and scan the QR codes to learn more about the community
The B is on the move
Normally the centrepiece of B Lab UK's HQ in London, our iconic  "Big B" is going on tour. B Corps in every region have put forward creative bids to host the B to amplify their story and generate local interest in business as a force for good. Some highlights will include: 
A trip to a Cornish beach to open up about the realities of responsible tourism
An evening hike up Cheddar Gorge where the B Corp logo will be lit up across the Mendip Hills
Taking a tractor to Warners Distillery to raise awareness of the nature-positive actions businesses can adopt
Edinburgh-based sustainability consultants will display the big B in front of Forth Bridge, acting as a "bridge" to better corporate sustainability strategies
Bringing people together to use business as a force for good
There are now over 55,000 people working for a B Corp in the UK, which makes B Corp Month an essential moment to improve our own understanding of how business should behave. Some events will be masterclass style and open only to the community, while others will be broadcast online to reach as many business leaders as possible. 
B Corp Working Groups will be hosting masterclasses on circular economy, people and culture, generative agriculture, marketing, finance, and food waste, which are open to anyone working for a B Corp. Sign up via the B Hive events calendar. 
On International Women's Day our Head of Growth Annie Olivier will be going live on LinkedIn to discuss women in purposeful business leadership with Gihan Hyde and Bonnie Chiu, founders of B Corps and members of our Equitable Growth Advisory Group.
For Neurodiversity Celebration Week our Content Coordinator Meg Dacey will be live on Instagram to celebrate neurodiversity with pioneering B Corps
Chris Turner, Executive Director of B Lab UK, will be at Economist Impact Sustainability Week on 30th March exploring "The battle against greenwashing" 
B Lab UK spokespeople will be appearing at events hosted by B Corps across the month
If you're a B Corp hosting an event that is open to register, we'd love to help you get the word out. Add it to the Airtable here.
Going behind the B 
Finally, this B Corp month, we're launching Behind the B: an introduction to the B Corp movement. This short course will give you an overview of the B Corp certification process, the B Impact Assessment, and the benefits of becoming a B Corp. The course launches on the 15th of March 2023 but you can pre-register here. Keep an eye on our blog and my colleague, Kyle Soo, will be sharing more details soon. 

B Corps, now it's over to you to demonstrate why and how you've chosen a more impactful path for your business. B Corp Certification isn't just a mark, it's a global movement and at its heart is a community of people who are passionate about doing business differently. We'll be updating the campaign page throughout the month as we see your activations go live, and you can stay up to date with exclusive access through the B Hive.
Happy B Corp Month!