How we got to 1000xBetter
To a thousand and beyond. Jacqueline Gunn, B Lab UK's Head of Community, shares facts and stats about UK B Corps.
At the end of last year — when I joined B Lab UK as Head of Community —  564 businesses had achieved B Corp Certification. This week we mark 1,000 of these extraordinary businesses certified across the UK. It's been an incredible journey welcoming so many like-minded leaders to our shared community over the past 12 months.
Every business who has come on this journey is helping us all to get infinitely closer to transforming our economy to be more equitable, inclusive and regenerative. As we hit the milestone of 1000 UK B Corps, we wanted to share some facts & stats (correct as of November 2022) about our UK community that shows how every business that certifies helps us to become 1000xBetter.
Let's take a moment to celebrate: 
Our community is represented in all corners of the UK. They are most prevalent in London, the South East and the South West. The furthest flung UK B Corp is Bruichladdich distillery on the southwestern tip of the remote Hebridean Island of Islay.
Household names who are part of the first 1,000 to have achieved B Corp status in the UK include Innocent Drinks, Ella's Kitchen, Baringa, Finisterre, Sipsmith and Simplyhealth.
The highest scoring B Corp in the UK is three person team Y.O.U Underwear, who scored 161 points in the B Impact Assessment. Other high scorers include Real Fundraising (160) and Fifty Eight (157). 
Over 50,000 people now work for a B Corp in the UK, with a collective revenue of around £17 billion.
B Corps are represented across 58 industries, with service agencies and food & drink companies among the most prominent industries.
Two UK B Corps are currently listed on the London Stock Exchange - digital transformation agency Kin + Carta and retailer ProCook.
Famous faces who have chosen to certify their businesses include Jamie Oliver, Lily Cole, Emma Bunton, Jamie Laing, and Bear Grylls.  
This year's B Corp Month reached around 90 million people in the UK.. 
There are close to 28,000 businesses using the B Impact Assessment in the UK.
And as a result, according to our most recent tracking data, awareness for B Corp certification has increased rapidly over the past two years. Recognition of the logo is now twice as high as it was two years ago and overall recall among UK adults of the B Corp logo and name currently stands at 34%.
O
v
e
r
a
l
l
r
e
c
a
l
l
a
m
o
n
g
U
K
a
d
u
l
t
s
o
f
t
h
e
B
C
o
r
p
l
o
g
o
a
n
d
n
a
m
e
c
u
r
r
e
n
t
l
y
s
t
a
n
d
s
a
t
3
4
%
.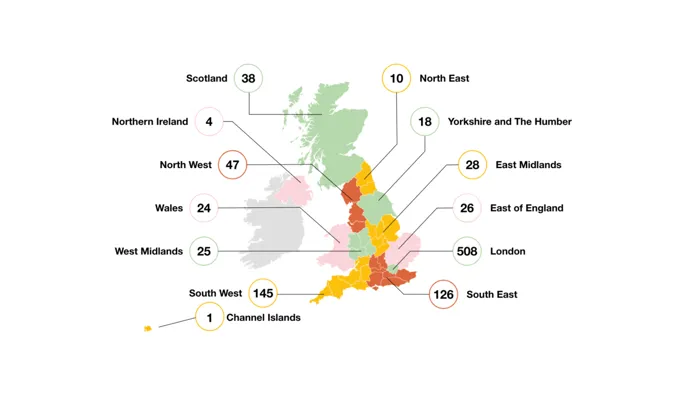 And some things to work on:
One in four (24%) UK B Corps are owned by women, and underrepresented founders make up 8% of B Corp leadership – this is set to change in 2023.
Regional growth of the movement has been faster in some areas than others, with Northern Ireland, Yorkshire & the Humber and the North East being the least represented regions in our community. Wales & Manchester are emerging as future hotspots for 2023.
Some sectors have been slower to adopt. The built environment, transport and agriculture are some of the least served industries and large businesses still make up only a very small proportion of the community. If that's you – get in touch!
What makes the UK leaders in this movement? 
The UK is one of the fastest growing B Corp communities in the world, with more B Corps than in the whole of mainland Europe combined.
With over 500 B Corps, London is the city with the most B Corps in the world - B Corps HQ'd in the big smoke include Danone UK, Mindful Chef, teapigs, innocent Drinks, Seismic, Candy Kittens, Sipsmith, Pip & Nut and many more.
UK B Corps are strong performers. Compared to traditional businesses, our 2021 data shows that B Corps have a faster growth in turnover (27% vs 5%) and employee headcount (14% vs 1%), greater levels of employee retention, engagement and diversity, higher levels of innovation and are more successful in securing equity finance (70% vs 56%). 
This year 165 UK B Corps were honoured as Best for the World, a global measure of the highest impact B Corp businesses. And over 400  B Corp employees are members of a working group, coming together to address sectoral or issue-specific challenges.
UK B Corps are stepping up to the challenge. Mission-led businesses are more likely to be reducing the burden of the cost of living crisis for their employees, suppliers and local community than non-mission led businesses and take steps to reduce their impact on climate change and the environment.
Our community is committed to continuous improvement. On average, UK B Corps increase their score by 13 points in their recertification cycle.
In total, UK B Corp employees logged 188,532 volunteering hours during their last assessed fiscal year.
B Corps are the proof behind the campaign to change British law through the Better Business Act. This is now backed by over 1,500 businesses. Seven in ten (72%) of the UK public believe business should have a legal responsibility to people and the planet, alongside maximising profit.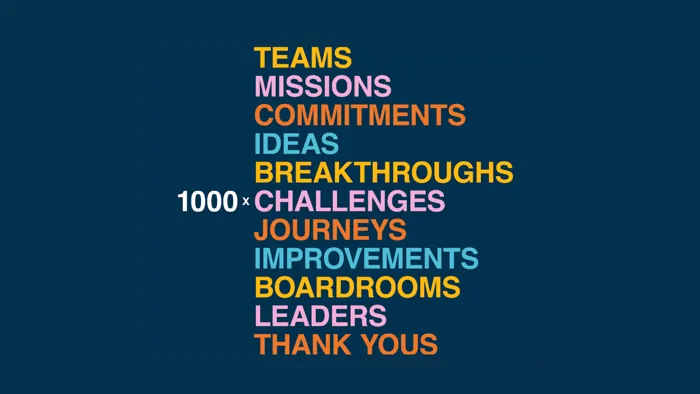 So, what's next? 
The past year has been a big period of transition for the B Lab UK team: scaling up our operations to manage a community of 1,000 has meant rethinking how we do things, and an inevitable shift towards more structure. This exciting milestone also points to what we want to achieve in the next year and beyond. 
Firstly, we won't succeed in our mission to transform the economy without building a community of leaders that is representative of the diversity of the UK. We're working on how we ensure we bring new geographic, and socio-economic perspectives into our community.
Secondly, as awareness of B Corp Certification grows, we're working hard to build a more nuanced understanding of what being a B Corp means among citizenry and decision makers, and continuing to showcase the core principles of accountability, transparency and continuous improvement in our work.
And thirdly, we are acutely aware of the urgency of the challenges facing our world, and the need for businesses to put competition aside to tackle them. The next phase in our growth must involve B Corps using their influence to take action, demonstrating the impact of a collective movement for change.
A big thanks to our sponsors
Marking this moment would not have been possible without the support of a small number of generous B Corps. With particular thanks to Simplyhealth, our headline sponsor, for their commitment, and also our campaign supporters Don't Cry Wolf, Seismic, Danone UK, Kin + Carta, The Upside, Yoyo Design, Nespresso, Coutts, PayCaptain and Second Home.
Proudly share this blog to celebrate the milestone with us!