New trustees join B Lab UK board
This month we welcomed three new trustees to the B Lab UK Board. Chair of the B Lab UK board, Dr Mary Johnstone-Louis shares more information.
Since I took on the role of Chair in 2021, B Lab UK – and the B Corp movement globally – has been through remarkable growth and change. In 2022 alone we welcomed a new head of B Lab Global and a new Chair of the B Lab Global board. B Lab Global announced the evolution of the B Corp standards, to ensure B Corp certification represents leadership, now and in the future. The community of certified B Corps is growing across the globe, from 3,700 companies at the end of 2020 to over 6,000 today - with 1,200 of those in the UK alone. This community is now notably broad, with an increasingly diverse range of businesses choosing to make a commitment to doing business differently, working across the UK, in all sizes of business and in almost every sector.
In this context of considerable change, B Lab's vision remains consistent: to see an inclusive, equitable, and regenerative economy become reality. In the next phase of B Lab's work, the questions of how we need to adapt, come alongside existing movements, and bring partners with us will determine our ability to deliver on this vision.
I
t
i
s
c
l
e
a
r
:
d
e
l
i
v
e
r
i
n
g
o
n
o
u
r
v
i
s
i
o
n
w
i
l
l
m
e
a
n
a
d
d
r
e
s
s
i
n
g
s
o
m
e
o
f
o
u
r
s
o
c
i
e
t
y
'
s
k
n
o
t
t
i
e
s
t
,
m
o
s
t
i
n
t
r
a
c
t
a
b
l
e
c
h
a
l
l
e
n
g
e
s
In the UK, while we're immensely proud of the accelerated growth of companies becoming B Corps, it is important to emphasise that our strategy is not centred purely on growing the number of B Corps in the UK.  On the contrary: now more than ever our work will require collaboration between B Corps, businesses that are not B Corps, policymakers, civil society, and citizens. The Better Business Act is an example, as is our Equitable Growth Advisory Group. It is clear: delivering on our vision will mean addressing some of our society's knottiest, most intractable challenges so that business truly represents a force for good for everyone in the UK. We have a long way to go.
In recruiting new trustees, we've been keen to include the perspectives of people who will help us to reach further, faster, and represent voices currently missing from the B Corp community. Our board recruitment reflects not just the skills and experience we need in this season but also our conviction that to realise our mission, we will need to work with a wide range of stakeholders across the UK.
I'm delighted to therefore confirm the appointment of: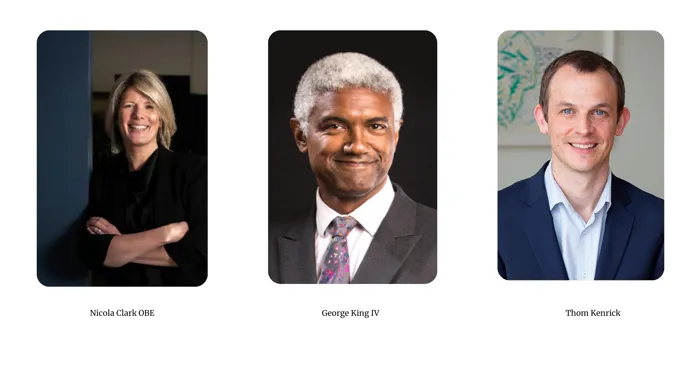 Nicola Clark OBE, CEO of UMi, a Durham-based B Corp with a footprint across England, Northern Ireland, and Scotland. UMi has strong experience with SMEs and is fully employee owned. Nicki brings substantial trustee experience in a range of organisations and enterprises whose services support and create better opportunities for young people.
George King IV, a senior investment professional with 30 years of financial markets experience. George has worked with investors from around the world on portfolio construction across all major asset classes and multiple currency regimes. He has a longstanding commitment to the B Corp community in the UK as well as substantial experience as trustee of a range of charities and cultural institutions, including as Chair.
Thom Kenrick, who brings us deep knowledge of large organisations' approaches to key issues including human rights, work in controversial sectors, and the UN Sustainable Development Goals. Based in Edinburgh, Thom is a seasoned charity trustee – most recently for School for Social Entrepreneurs – who also sits on the Advisory Board of the Global Ethical Finance Initiative (GEFI).  
Alongside these appointments, we are finalising our recruitment for one more trustee from the community of B Corps CEOs between now and April. 
Nicki, George, and Thom are each highly accomplished trustees who bring a regional diversity and the mix of expertise in finance, large corporates, and SMEs. They are fully committed to supporting the team and vision of B Lab UK. We're delighted to have their skills and experience with us. To each of them: a warm welcome!